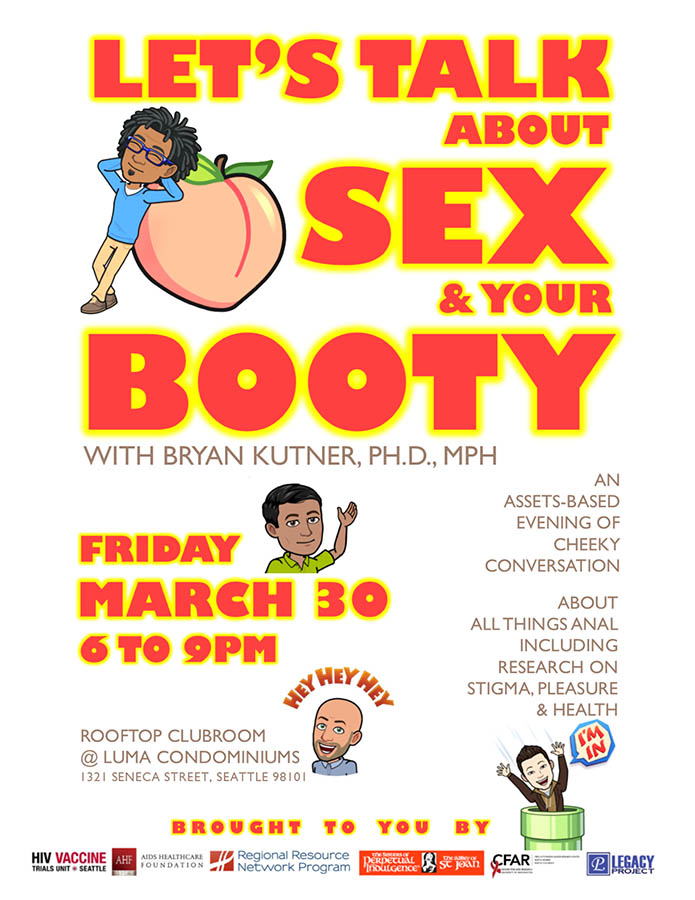 March 30th, 2018
6 PM – 9 PM
1321 Seneca St, Seattle, WA 98101-2828, United States
Come get questions answered at our assets-based evening of cheeky conversation about some intriguing research on the stigma around sexual orientation and anal sex with the fabulous Bryan Kutner, PhD, MPH and the ever-curious Louis Shackelford.
We promise a fun evening of lively talk with a focus on gay & bi men (cisgender & transgender) to ask questions or discuss topics of concern about anal sex, but the night is OPEN TO ALL who are interested in the topic.
Our event will be held from 6 to 9 PM at the Rooftop Clubroom @ Luma Condominiums (1321 Seneca Street, Seattle 98101).
The event is brought to you by the Legacy Project, the Community Action Board of the UW/Fred Hutch Center for AIDS Research, the Seattle HIV Vaccine Trials Unit, the Regional Resource Network Program, AIDS Healthcare Foundation and the Sisters of Perpetual Indulgence The Abbey of St. Joan.