Play Fair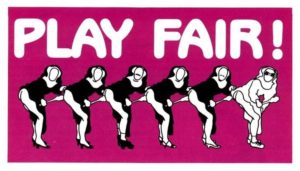 In 1982 as San Francisco's health scene had hit crisis levels, registered nurses Sister Florence Nightmare and Sister Roz Erection joined with a team of Sisters and medical professionals to create "Play Fair!", the first safer sex pamphlet to use plain sex-positive language, practical advice and humor to educate people on the responsibility of their sexual health.
We continue the duty of teaching the message that everyone has a responsibility to themselves and their sex partners to stay safe and Play Fair. Our "Condom Saviors" and "Passion Packs" carry supplies and helpful information, all of which are free for the asking.
You can help us purchase the supplies we need. DONATE TODAY!