Movie Night with Sister Glo – Torch Song Trilogy
Posted on by Pristine Chapel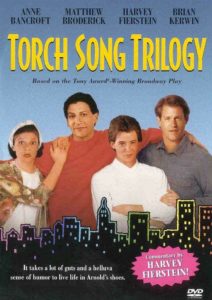 Friday, November 14, 2014 at 7:30 PM
Seattle Area Support Groups (SASG)
115 15th Ave E, Ste 201, Seattle, Washington 98112
Join Sister Glo in the comfort of the SASG living room for a Friday night film.
We'll be watching Torch Song Trilogy, the 1988 "urban comedy-drama spanning nine years in the life of a gay man in New York, centering around the loves of his life, his stormy relationship with his mother, and his hopes to adopt a son." Harvey Fierstein, a young Matthew Broderick, what's not to love?!
After we watch, well, you know how it goes – we'll talk!
This is a FREE, BYOP (bring your own popcorn) event.
The film will begin at 8:00pm.
For more information about SASG, please visit their website, http://www.sasgcc.org/